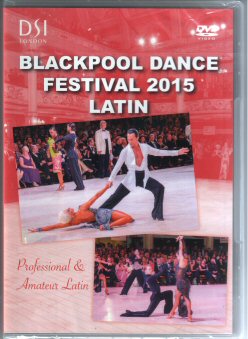 90th Blackpool Dance Festival 2015 - Professional and Amateur Latin
By: --NA--
Product code: DSI-7615BL
Two DVD releases are available for 2015 Blackpool Dance Festival: Professional/Amateur Ballroom and Professional/Amateur Latin.
Each release is a double DVD
containing the highlights of the quarter-finals, semi-final and final in full. The Results announcement is also included.
As always Blackpool DVDs show a truly breathtaking show and spectacular outfits! Multi-camera professional footage.
PROFESSIONAL LATIN
Final
Michal Malitowski & Joanna Leunis, England
Riccardo Cocchi & Yulia Zagoruychenko, USA
Maurizio Vescovo & Andra Vaidilaite, Canada
Stefano Di Filippo & Dariya Chesnokova, Italy
Andrej Skufca & Melinda Torokgyorgy, Slovenia
Jurij Batagelj & Jagoda Batagelj, Slovenia
Troels Bager & Ina Ivanova Jeliazkova, Denmark
Semi-final
Emanuele Soldi & Elisa Nasato, Italy
Neil Jones & Ekaterina Jones, England
Dorin Frecautanu & Marina Sergeeva, Moldova
Evgeni Smagin & Polina Kazatchenko, Russia
Rachid Malki & Anna Suprun, Norway
Manuel Favilla & Nataliya Maidiuk, Ukraine
Nikolai Voronovich & Maria Nikolishina, USA
Quarter-final
Mirco Risi & Svetlana Borisova, Italy
Marek Fiksa & Kinga Jurecka-Fiksa, Poland
Gunnar Gunnarsson & Marika Doshoris, England
Massimo Arcolin & Laura Zmajkovicova, Italy
Pavel Zvychaynyy & Angelique Meyer, Germany
Stefano Moriondo & Daria Glukhova, Italy
Peter Majzelj & Maja Gersak, Slovenia
Anton Skaskiv & Polina Skaskiv, Ukraine
Ruslan Aydaev & Valeriya Kozharinova, Russia
Kamil Studenny & Anna Pelipenko, Canada
Shinsuke Kanemitsu & Natsuko Yoshida, Japan
Dmytro Wloch & Ekaterina Krysanova, Ukraine
Yi Long Xu & Lin Yue Shi, China
Jake Davies & Olena Kalinina, USA
Alexander Ivakhnov & Anastasija Kraitor, Lithuania
Vitaly Sevastianov & Anna Sevastianova, Ireland
Valera Musuc & Nina Trautz, Germany
Rangel Spirov & Veronika Chernyavska, Bulgaria
Sven Ninnemann & Nina Chinju Uszkureit, Switzerland
Markku Hyvarinen & Disa Kortelainen, Finland
Jakub Rybicki & Nadezhda Martynenko, Poland
AMATEUR LATIN
Final
Nikita Brovko & Olga Urumova, Russia
Morten Löwe & Roselina Doneva, Denmark
Kirill Belorukov & Ekaterina Nikolaeva, Russia
Ferdinando Iannaccone & Yulia Musikhina, Italy
Manuel Frighetto & Karin Rooba, Estonia
Klemen Prasnikar & Alexandra Averkieva Slovenia
Semi-final
Anton Nesterko & Dariya Maryuschenko, Ukraine
Damir Haluzan & Anna Mashchyts, Slovenia
Arkady Bakenov & Rosa Filippello, England
Igor Wilczynski & Anna Kapliy Poland
Pasha Pashkov & Daniella Karagach, USA
Luca Urso & Alessandra Tripoli, Italy
Quarter-final
Alexander Chernositov & Arina Grishanina, USA
Salvatore Sinardi & Viktoriya Kharchenko, Italy
Sam Shamseili & Frederikke Flyvbjerg Norgaard, Denmark
Atanas Gendov & Anna Lisova, Italy
Ruslan Khisamutdinov & Elena Rabinovich, Russia
Joel Lopez & Kristina Bespechnova, Spain
Denys Samson & Yuliya Nikitenko, England
Denys Drozdyuk & Antonina Skobina, USA
Tal Livshitz & Ilana Keselman, USA
Darren Hammond & Milla Lykke, South Africa
Sergey Maksyuta & Dariya Sereda, Russia
Kiril Kulish & Orsolya Horvath, USA
The DVDs are multi-region and are compatible with PAL and NTSC systems.
---
---
Additional info
NTSC is a system used in America and Japan. PAL is used in Europe and Australia
Read about TV formats: PAL, NTSC and DVD regional codes
---
Part of collection