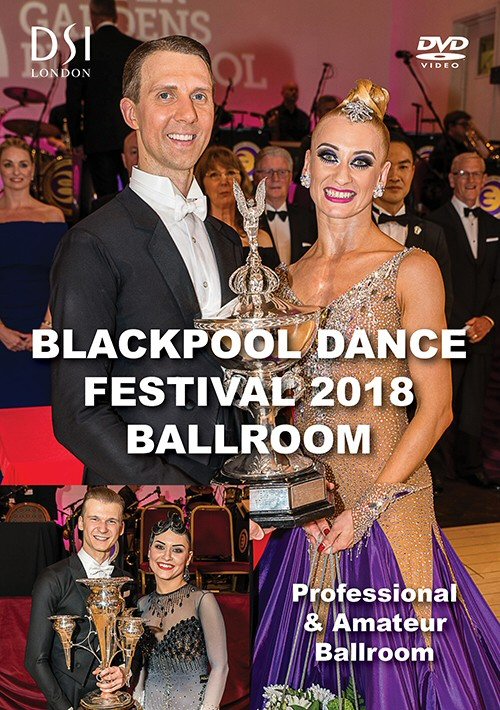 93rd Blackpool Dance Festival 2018 - Professional and Amateur Ballroom
By: --NA--
Product code: DSI-7618BB
Two DVD releases are available for 2018 Blackpool Dance Festival: Professional/Amateur Ballroom and Professional/Amateur Latin.
Each release is a double DVD
containing the highlights of the quarter-finals, semi-final and final in full. The Results announcement is also included.
As always Blackpool DVDs show a truly breathtaking show and spectacular outfits! Multi-camera professional footage.
PROFESSIONAL BALLROOM
Final
Arunas Bizokas & Katusha Demidova, USA
Victor Fung & Anastasia Muravyova, USA
Andrea Ghigiarelli & Sara Andracchio, England
Valerio Colantoni & Monica Nigro, Italy
Domen Krapez & Natasha Karabey, Germany
Aleksandr Zhiratkov & Irina Novozhilova, Russia
Sergiu Rusu & Dorota Rusu, Poland
Semi-final
Stanislav Zelianin & Irina Cherepanova, Russia
Lukasz Tomczak & Aleksandra Tomczak, Poland
Stas Portanenko & Nataliya Kolyada, Ukraine
Gaetano Iavarone & Emanuela Napolitano, Italy
Alessio Potenziani & Veronika Vlasova, Russia
Marek Kosaty & Paulina Glazik, Poland
Dusan Dragovic & Valeriya Agikyan, England
Diego Arias Prado & Ekaterina Ermolina, Spain
Quarter-final
Oskar Wojciechowski & Karolina Holody, USA
Iaroslav Bieliei & Liliia Gladiuk, USA
Vladislav Shahov & Ekaterina Popova, USA
Rüdiger Homm & Katya Kanevskaya, USA
Go Hashimoto & Keiko Onda, Japan
Gianni Caliandro & Arianna Esposito, Italy
Jack Beale & Natalia Siyanko, England
Mark Elsbury & Olga Elsbury, England
Craig Shaw & Evgeniya Shaw, England
Alexandr Voskalchuk & Veronika Egorova, USA
Wei Ping Li & Cen Zheng, China
Sergei Sutyrin & Natalya Sazhina, Russia
AMATEUR BALLROOM
Final
Fedor Isaev & Anna Zudilina, Russia
Chong He & Jing Shan, China
Kyle Taylor & Izabela Skierska, England
Igor Reznik & Mariya Polischuk, Ukraine
Si Cheng Li & Zhou Man Ni, China
Jianan Peng & Jia Ci Zhong, China
Semi-final
Michal Le & Sandra Jablonska, Poland
Artem Kuklin & Alika Dikaya, Ukraine
Dan Malov & Stephanie Noon, USA
Marko Ilich & Yuliya Kovtunova, Ukraine
Maciej Kadlubowski & Maja Kopacz, Poland
Alex Freyr Gunnarsson & Ekaterina Bondareva, Iceland
Angelo Gaetano & Clarissa Morelli, USA
Quarter-final
Vadim Negrebetskiy & Bettina Hatfield, England
Krzysztof Myka & Agnieszka Osrodka, Poland
Yuriy Prokhorenko & Mariya Sukach, Ukraine
Aleksandr Kalenyuk & Olena Ablitsova, USA
Chen Xiangyu & Jiao Yuehan, China
James Cutler & Virginie Primeau, Canada
Ilya Golovchenko & Kristina Bogoslavskaya, Russia
Pawel Kostrzewa & Martyna Lewandowska, Italy
Alex Plant & Faye Edge, England
Marcus Mitchell & Tetyana Panchenko, England
Michael Foskett & Nika Foskett, England
The DVDs are multi-region and are compatible with PAL and NTSC systems.
---
---
Additional info
NTSC is a system used in America and Japan. PAL is used in Europe and Australia
Read about TV formats: PAL, NTSC and DVD regional codes
---
Part of collection