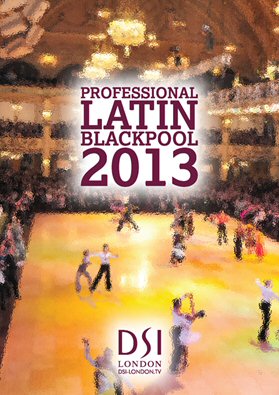 88th Blackpool Dance Festival 2013 - Professional Latin
By: DSI
Product code: DSI-7613PL
The format of filming Blackpool Dance Festival has returned to the traditional one, meaning only Open Amateur and Professional Ballroom and Latin events are released on DVDs.
Each of the four releases is a double DVD containing the highlights of the 2nd round and 3rd round plus 4th round, semi-final and final in full. The Results announcement is also included.
As always Blackpool DVDs show a truly breathtaking show and spectacular outfits! Multi-camera professional footage. Analysis and commentary from Camilla Dallerup, Martin Cutler and Richard Miller.
Final
Michal Malitowski & Joanna Leunis, England
Riccardo Cocchi & Yulia Zagoruychenko, USA
Sergey Sourkov & Agnieszka Melnicka, Russia
Maurizio Vescovo & Andra Vaidilaite, Canada
Andrej Skufca & Melinda Torokgyorgy, Slovenia
Stefano Di Filippo & Dariya Chesnokova, Italy
Semi-final
Emanuele Soldi & Elisa Nasato, Italy
Neil Jones & Ekaterina Sokolova, England
Nikolai Voronovich & Maria Nikolishina, USA
Jurij Batagelj & Jagoda Batagelj, Slovenia
Evgeni Smagin & Polina Kazatchenko, Russia
Rachid Malki & Anna Suprun, Norway
Andrei Kazlouski & Asta Sigvaldadottir, USA
Evgenij Voznyuk & Motshegetsi Mabuse, Germany
Igor Volkov & Ella Ivanova, Ukraine
Ilia Russo & Oxana Lebedew, Germany
Quarter-final
Stefano Moriondo & Angelique Meyer, Italy
Gunnar Gunnarsson & Marika Doshoris, England
Danny Liang Zhao & Svetlana Borisova, China
Roman Kovgan & Nataliya Rumyantseva, Russia
Anton Sboev & Patrizia Ranis, England
Manuel Favilla & Nataliya Maidiuk, Hong Kong
Igor Yaremenko & Yana Yaroslavskaya, Ukraine
Andrei Mosejcuk & Kamila Kajak, Poland
Aleksandr Skarlato & Yulia Lesokhina, Ukraine
Denis Tagintsev & Viktoria Rudkovskaya, Russia
Peter Majzelj & Maja Gersak, Slovenia
Alex Wei Wang & Roxie Jin Chen, China
Markku Hyvarinen & Disa Kortelainen, Finland
Ivan Mulyavka & Loreta Kriksukaityte, USA
The Professional Latin DVDs show also the highlights of the 2nd round, 3rd round and 4th round.
The DVDs are multi-region and are compatible with PAL and NTSC systems.
---
---
Additional info
NTSC is a system used in America and Japan. PAL is used in Europe and Australia
Read about TV formats: PAL, NTSC and DVD regional codes