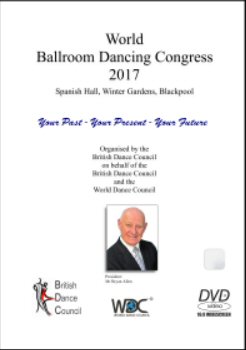 World Ballroom Dancing Congress, Blackpool May 2017
By: --NA--
Product code: DB-BDF17
Every year in May Blackpool becomes not only the home of one of the finest dance competitions, but also a home of the famous Blackpool Congress where world's best professional dancers and teachers give lectures about dancing at the highest level. Tickets to the Congress are expensive and places are limited, fortunatelly there are also the official Congress DVDs that allow you to experience learning from the World's finest Dancers and Coaches.
These are official DVDs (set of 5) in PAL or NTSC system containing THE WORLD'S BEST LECTURES with the world's top dance coaches and performers. The lectures are a live recording of the event that took place in Winter Gardens, Blackpool, May 2017
Motto: Your Past - Your Present - Your Future
DISC 1
Opening Ceremony
Donnie Burns MBE & Gaynor Fairweather MBE
Andrej Skufca & Jurij Batagelj - Theatre of Dreams
John Wood - Illusions of Time
Hide Tanaka
DISC 2
Andrea Ghigiarelli & Sara Andracchio - "The Truth"
Troels Bager & and Ina Jeliazkova - "YOU-nique"
Toni Redpath - "The DNA of Smooth"
DISC 3
Michael Malitowski & Joanna Leunis
Arunas Bizokas & Katusha Demidova - "Remember...Enjoy...Imagine"
Riccardo Cocchi & Yulia Zagoruychenco
Victor Fung & Anastasia Muravyova
DISC 4
Stefano Di Filippo & Dasha Chesnokova
Domen Krapez & Natascha Karabey - "Details make the Difference"
Bryan Watson & Carmen - "Dancer, Winner, Both?"
DISC 5
Sam Sodano - "Rhythm vs Latin - What Makes the Difference?"
Pierre Dulaine - Dancing Classrooms"
Closing Speech
Total running time: approx 9 hrs (18 lectures, average 30 min/lecture + opening and closing)
---
---
Additional info
NTSC is a system used in America and Japan. PAL is used in Europe and Australia
Read about TV formats: PAL, NTSC and DVD regional codes