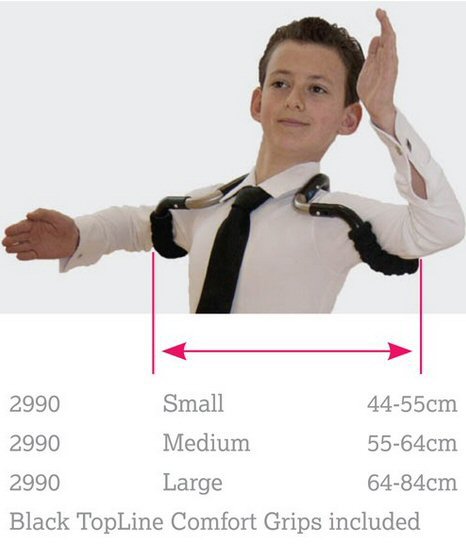 Topline dance frame
By: --NA--
Product code: DSI-2990
The Topline dance frame has been around for a couple of years. We have been a little sceptical at first, but we have recently seen an impressive progress a group of young dancers made to their ballroom top lines using this frame and the conclusion is simply overwhelming: It really works!
The Topline dance frame is a revolutionary training aid. It develops muscle memory, promotes full body rotation and enhances your body shape. Use it regulary at your practice by simply dancing in it. The frame will keep your top line immaculate. Your muscles will memorise the position. Towards the end of your practice remove the frame and dance the same routines without it. Do it regulary and your top line will be transformed from average to immaculate within a couple of months.
The topline frame is light and easy to carry. It has a modular construction and disassembles quickly and easily into parts which you can fit into a small box. Suitable for both male and female dancers, although it is more beneficial when used by the male (the leader). Designed and made in Britain. Available in 3 sizes for children and adults.
---
---
Additional info
We try to ensure that the products on this website are accurately described. However, because of the difference in monitors or graphic cards the colour of the picture may be slightly different than the real product.
We recommend you check the general sizing guide before buying
Check the general delivery times