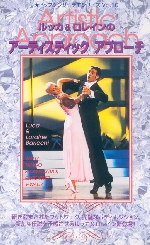 Luca and Loraine Baricchi - Artistic Approach
By: Studio Himawari
Product code: HW058
This is one of the earlier videos recorded by Luca and Loraine. It gives an insight into how Luca and Loraine understand their dancing and where they put priorities. These two excellent exponents of Ballroom dancing demonstrate 5 complete choreography programmes for 5 dances:
Waltz
Tango
Foxtrot
Quickstep
Viennese Waltz
Each dance is presented:
Dancing together to the music
Man side only to the count
Lady side only to the count
Explaining the figure names together
In the last part of the video Luca and Loraine make a full demonstration of all 5 dances in full setup with lighting and costume changes.

Running time: 53 min approx.
---
---
Additional info
At the moment we still have some stock, but the stock is limited
NTSC is a system used in America and Japan. PAL is used in Europe and Australia
Read about TV formats: PAL, NTSC and DVD regional codes
---
Part of collection