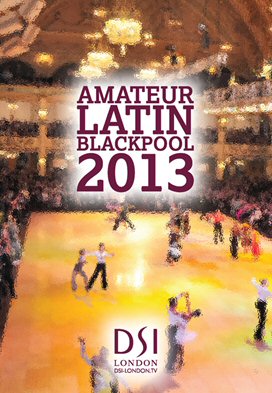 88th Blackpool Dance Festival 2013 - Amateur Latin
By: DSI
Product code: DSI-7613AL
The format of filming Blackpool Dance Festival has returned to the traditional one, meaning only Open Amateur and Professional Ballroom and Latin events are released on DVDs.
Each of the four releases is a double DVD containing the highlights of the 2nd round and 3rd round plus 4th round, semi-final and final in full. The Results announcement is also included.
As always Blackpool DVDs show a truly breathtaking show and spectacular outfits! Multi-camera professional footage. Analysis and commentary from Camilla Dallerup, Martin Cutler and Richard Miller.
Final
Troels Bager & Ina Ivanova Jeliazkova, Denmark
Kirill Belorukov & Elvira Skrylnikova, Russia
Ferdinando Iannaccone & Yulia Musikhina, Italy
Nikita Brovko & Olga Urumova, Russia
Mirco Risi & Maria Ermatchkova, Italy
Morten Löwe & Roselina Doneva, Denmark
Semi-final
Marek Fiksa & Kinga Jurecka-Fiksa, Poland
Arkady Bakenov & Rosa Filippello, Australia
Sarunas Greblikas & Viktoria Horeva, Latvia
Klemen Prasnikar & Alexandra Averkieva, Slovenia
Anton Nesterko & Dariya Maryuschenko, Ukraine
Dorin Frecautanu & Mariya Dyment, Moldova
Quarter-final
Andrzej Suchocki & Natalia Piecewicz, Poland
Manuel Frighetto & Karin Rooba, Estonia
Oleksandr Kravchuk & Olesya Getsko, Ukraine
Vladimir Litvinov & Olga Nikolajeva, Russia
Ruslan Aydaev & Valeriya Kozharinova, USA
Sergiy Chyslov & Darya Chyslova, Ukraine
Denys Drozdyuk & Antonina Skobina, USA
Sam Shamseili & Arina Grishanina, Denmark
Daniel Falkenberg & Anna Kapliy, Denmark
Massimo Arcolin & Lyubov Mushtuk, Italy
Pasha Pashkov & Daniella Karagach, USA
Salvatore Sinardi & Anastasia Kuzieva, Italy
Luca Urso & Alessandra Tripoli, Italy
Stefano Oradei & Veera Kinnunen, Sweden
Dmytro Pankov & Olesya Pankova, Ukraine
The Amateur Latin DVDs show also the highlights of the 2nd round, 3rd round and 4th round.
The DVDs are multi-region and are compatible with PAL and NTSC systems.
---
---
Additional info
NTSC is a system used in America and Japan. PAL is used in Europe and Australia
Read about TV formats: PAL, NTSC and DVD regional codes
---
Part of collection