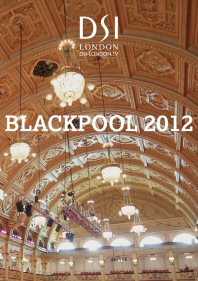 87th Blackpool Dance Festival 2012 - Under21 Latin
By: DSI
Product code: DSI-76120
A new format of filming Blackpool Dance Festival has been introduced from 2012 and it is proving very successful. A separate DVD has been made for every event that took place. Each DVD contains the quarter final, semi-final and final of the relevant event, except the Professional events, which also show the best 48 couples.
The Team Match DVD is an exception from this rule, as the Team Match is a 10 dance competition between 4 teams, all happening in one round. The Team Match always is a highlight of the Festival with its traditionaly spectacular Team entries and fast changing contestants entries and exits. It has not been much filmed in the past, so it is great to see that it is now included.
Plus spectacular outfits and truly breathtaking show!
The DVDs are multi-region and are compatible with PAL and NTSC systems.
---
---
Additional info
NTSC is a system used in America and Japan. PAL is used in Europe and Australia
Read about TV formats: PAL, NTSC and DVD regional codes
---
Part of collection