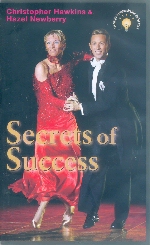 Christopher Hawkins & Hazel Newberry, Secrets of Success
By: Studio Himawari
Product code: HW080
In this video Chris and Hazel present the most beautiful choreographies for Waltz, Tango, Foxtrot and Quickstep. Each dance is presented:
Dance to the music
Dance with the timing
Dance with the description of the figure names
Dance to the music with the timing
Viennese Waltz
In the last part Chris and Hazel make a full demonstration of all dances in full setup with lighting and costume changes.
Running time: 50 min.
---
---
Additional info
NTSC is a system used in America and Japan. PAL is used in Europe and Australia
Read about TV formats: PAL, NTSC and DVD regional codes